Introduction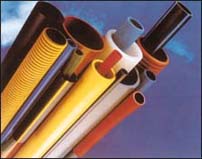 Mono- and dialkyltin compounds (RSnX3 and R2SnX2) have been well established as high performance stabilizers in the PVC-processing industry for more than 40 years. These additives are firmly bound in the plastic matrix and, consequently, migration or leaching from rigid PVC is insignificant. Because of this, and owing to their low mammalian toxicity, certain methyl-, octyl-, and dodecyltin stabilizers are approved for use in food packaging materials.

During PVC-processing the observance of established exposure limit values is the basis for the safe handling of organotin compounds. There is no environmental risk expected to be associated with the use of organotin based PVC stabilizers.




Chemical Composition
The organotin compounds used as stabilizers for PVC are mono- and/or di-alkyltins. The general chemical formula is:

RSnX3 and R2SnX2


Where the alkyl group R can be:
Methyl, Butyl, Octyl or Dodecyl
Where the ligand X can be:
Mercaptoester (e.g., thioglycolate), Carboxylate (e.g., maleate), Sulfide
The most common stabilizers are produced by reaction of mono- and di-alkyltinchlorides with mercaptoesters.