Stabilizers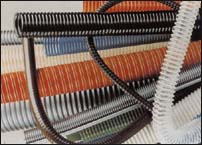 PVC is one of the most versatile polymers used worldwide for a wide variety of products varying from soft to high impact resistance rigid applications.
At processing temperature however the polymer is unstable which leads to decomposition. To be able to process PVC at the required temperature, stabilizers are added, often with a double function against heat as well as against light.
Also lubricants are required to reduce the apparent viscosity when processed and/or molded. By varying the different stabilizers and combinations of lubricants and other processing aids, PVC can be customized to meet the application criteria for a safe and sound processing like calendering, injection molding, blow molding, extrusion and thermoforming.
Their chemical nature and behavior make tins stabilizers a very attractive stabilizer for all applications.